NO: 154 Almighty Imp Arton
Almighty Imp Arton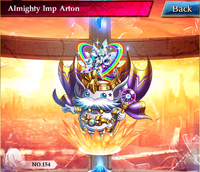 Information
An imp from another dimension who guided others of his kind during the creation of the heavens and the earth. Said to have been born from the combination of dozens of imps, Arton supervised his subordinates while they worked. Not only is he extremely wise, but as the almighty imp, it is speculated that he could be used as an all-purpose ingredient instead of fusing numerous other imps at once. However, capturing Arton is an extremely rare feat, and thus research on this subject has failed to advance any further.
Obtain in
[One-Time Crossover] Clear Stage 1 of Metal God Garden.
Rare Medal Shop for 15 Rare Medals.
Notes
Increases up to 2 HP, Grd, Spr and Spd when fusing.
Ad blocker interference detected!
Wikia is a free-to-use site that makes money from advertising. We have a modified experience for viewers using ad blockers

Wikia is not accessible if you've made further modifications. Remove the custom ad blocker rule(s) and the page will load as expected.