NO: 382 Magic User Recipe
Magic User Recipe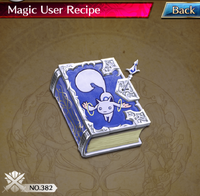 Information

Looking cute is the most powerful weapon of all. I learned this from the many animals I have encountered. That led me to wonder whether bestowing cute qualities on a weapon would cause opponents to underestimate it and thereby suffer great damage. The weapon described in this recipe was created to test my idea.
---Excerpt from the untitled Manual of Secrets Chapter 1
Notes
Ad blocker interference detected!
Wikia is a free-to-use site that makes money from advertising. We have a modified experience for viewers using ad blockers

Wikia is not accessible if you've made further modifications. Remove the custom ad blocker rule(s) and the page will load as expected.