NO: 302 Prism Mannan
Prism Mannan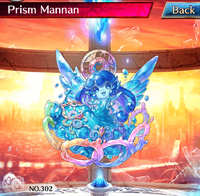 Information

A life-form born from a droplet of mana, the source of life. It is said to be a precious form of Mannan that has gained even greater abilities than Sphere Mannan. It stands at the pinnacle of the Mannan heirarchy, and can awaken unknown power and knowledge.
Captured in
Ad blocker interference detected!
Wikia is a free-to-use site that makes money from advertising. We have a modified experience for viewers using ad blockers

Wikia is not accessible if you've made further modifications. Remove the custom ad blocker rule(s) and the page will load as expected.