Soul Shard (Artemis)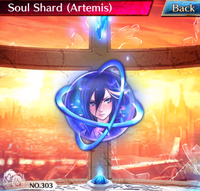 Information
NO: 303 Soul Shard (Artemis)
A mystical crystal required to tap Artemis's untold power. It is said to materialize before the commander after Artemis and her rival come to accept each other after their battle.
Captured in
Ad blocker interference detected!
Wikia is a free-to-use site that makes money from advertising. We have a modified experience for viewers using ad blockers

Wikia is not accessible if you've made further modifications. Remove the custom ad blocker rule(s) and the page will load as expected.